OFFER AN OPTIMISED DIGITAL EXPERIENCE FOR PATIENTS & STAFF
The user experience is unique to that hospital Trust and only accessible when users are on-site. From checking appointment times to ordering meals, the SPARK® platform allows patients access to everything they need to make their journey through the hospital simple.
The SPARK® platform offers secure, high-speed hospital WiFi to staff, patients and visitors so they can always stay connected. It also provides entertainment, engagement, education and efficiencies to the NHS as well as it's patients.
Patient, visi

tor and staff WiFi

Freeview TV and entertainment

Educational videos and NHS information

Charity awareness and engagement

Exceptional support 24/7
Find out more about SPARK® via the button below or book a demo to see it in action: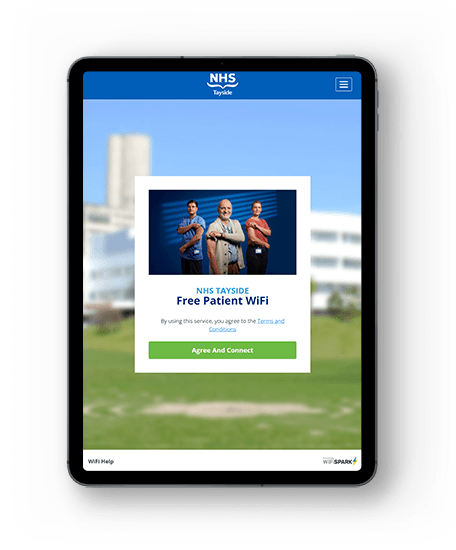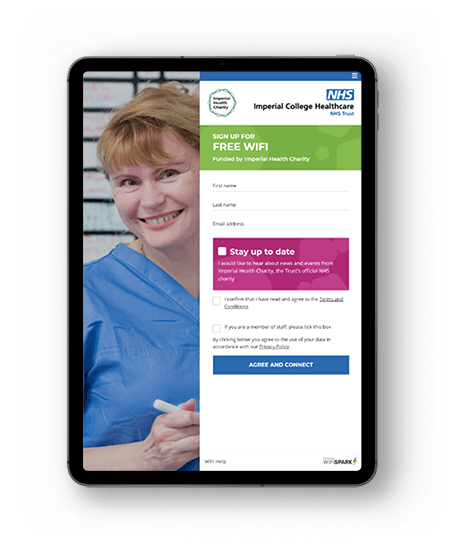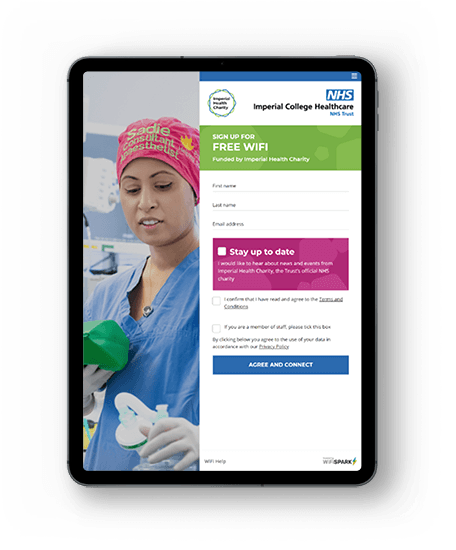 Features of the SPARK® solution:
Fully branded, multi-lingual virtual hospital services
Multiple authentication methods & tiered bandwidth options
Fully compliant, 'Friendly WiFi' approved with IWF compliant filtering
24/7 helpdesk support & monitoring for end-users by WiFi SPARK engineers
Integrate into existing hospital patient services & software
Freeview TV, radio, audiobooks & films to stream on patients' own devices
Proven ROI by reduced total spend and improved hospital efficiency
Secure analytics on user behaviours that remains the property of the Trust
SPARK® MEDIA
The future of patient entertainment; providing entertainment and engagement services directly to the patient's device of choice. Using terrestrial or satellite feeds, WiFi SPARK can provide TV & radio content to a user's own device. All on the local network, saving valuable internet bandwidth requirements.
Patient entertainment and engagement platform
Transform the patient experience with a powerful digital entertainment and engagement solution, accessible on personal devices. Leverage banner advertising to drive awareness towards your hospital charity or Trust initiatives.
SPARK® Media: Lite caters to Bring Your Own Device (BYOD) solutions, providing a dynamic web-based platform that seamlessly links to curated websites.
Every Trust who has our Connect platform offering free WiFi, has Media Lite.
Trusts can display up to 6 links on this platform. This could include:
Video streaming and catch-up TV
BBC resources such as Archive and Music Memories for dementia patients.
Sudoku
Hospital information
NHS resources such as A-Z Health Index or videos.
Hospital Radio
Add-Ons include:
Digital Magazines and Newspapers
21 puzzle games
Visionable (video calling)
The Ultimate Media Package
This upgradeable package comes with more links to display on the platform. This means there is no limit to how much information you can display through our SPARK® Media platform.
With SPARK® Media, patients can access more entertainment options:
Live TV
Netflix & Disney Plus
BBC iPlayer & ITV Hub
21 puzzle games
Radio
All of these options are designed to enhance patients' overall happiness and well-being.
Add-Ons include:
Digital Magazines and Newspapers
Visionable (video calling)
Beyond entertainment, SPARK® Media provides access to a library of educational content, helping patients to gain a better understanding of their condition and feel empowered to take control of their healthcare journey.
This option is available on bring-your-own-device (BYOD) solutions and can also be implemented on SPARK® Horizon units.